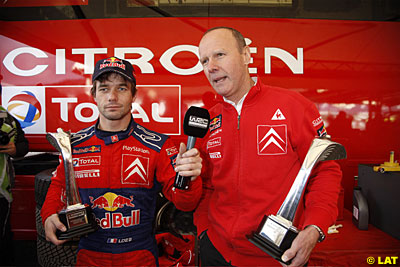 Londra – Nessuna sorpresa nella notte londinese, Sebastien Loeb è stato nominato' International rally driver of the year' mentre alla Citroen C4 è andato il riconoscimento nella categoria 'rally car of the year'.
"Voglio ringraziare tutti i lettori di 'Autosport' per questo bel premio"  ha commentato il francese che ha trionfato ieri nel rally RAC, atto conclusivo del mondiale 2008, aggiungendo l'ennesimo record al suo palmares: undici vittorie in una stagione, un primato assoluto, destinato probabilmente ad essere battuto dallo stesso Loeb forse già nel 2009.
Loeb  si era già aggiudicato il premio nel 2004, nel 2005 e nel 2006.
Cristina Capruzzi