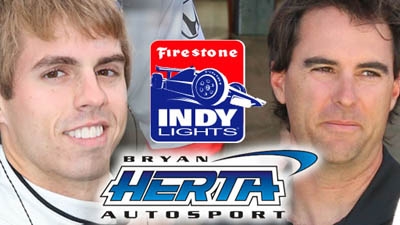 "Hint, if the deal comes together he has previous starts at Indy and first or last name starts with the 2nd letter in the alphabet."
Questa frase compare nella pagina "Twitter" di Brian Herta. Dunque si può dedurre che la vettura Dallara-Honda n°22 del team Vision, gestita dagli uomini della "Bryan Herta Autosport", sarà al via con uno di questi papabili  piloti, i cui nomi sono stati recentemente protagonisti di voci di mercato:
– Buddy Rice
– Towsend Bell
– Buddy Lazier
– Bruno Junqueira
– Enrique Bernoldi
– Alex Barron
– Bryan Herta in persona!
Tuttavia:
– Buddy Rice sembra indirizzato verso  la sponda Rahal-Letterman, Bobby Rahal infatti ha iscritto una vettura , la n°17.
– Buddy Lazier è storicamente legato alla n°91 del team Hemelgarn Racing.
– Servia sembra avere un contratto quasi assicurato con KV Racing.
– Il nome di Enrique Bernoldi non sembra essere più di attualità nel mondo delle competizioni d'oltreoceano. Tranne che in occasione dell'avvicendamento con Tagliani nelle ultime gare della scorsa stagione e in occasione delle voci di mercato nei seguenti primi mesi invernali in relazione alla scuderia Conquest Racing, crediamo sia difficile ipotizzarlo ai nastri di partenza.
– Alex Barron è assente dalle competizioni agonistiche della IRL da alcuni anni, ma non possiamo escludere a priori nè il suo nome nè quello di Bryan Herta stesso. Quest'ultimo dopo il ritiro dalle competizioni,  dallo scorso anno presta il suo apporto in seno al team di Tony George ed è impegnato in prima persona nella gestione di una scuderia Indy Lights a partire da questa stagione.
Possiamo dunque ipotizzare, con un ampio margine di probabilità, che il sedile venga occupato da Townsend Bell.
Fantascienza sarebbe poi parlare di Sebastien Bourdais…
MN