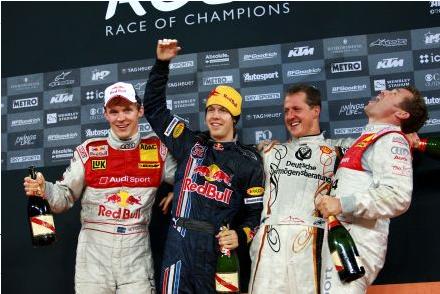 La Germania si conferma per il secondo anno consecutivo campione nella Race of the Nation.
Il team formato dal 7 volte campione del mondo di f1, Michael Schumacher, ed il pilota cresciuto nel suo kartodromo di Kerpen, Sebastian Vettel, ha raggiunto la finale imponendosi rispettivamente contro l'Irlanda al primo turno e la Gran Bretagna F1 in semifinale.
La squadra Scandinava, formata da Tom Kristensen e Mattias Ekström, per accedere alla finale ha sconfitto la Francia di Sébastien Loeb e di Yvan Muller al primo turno e la Gran Bretagna Autosport in semifinale.
Il primo team britannico della Gran Bretagna F1, di David Coulthard e Jason Plato, nel primo turno è riuscita a prevalere sulla squadra All-Star, formata da Jaime Alguelsari e Troy Bayliss; mentre il secondo, Gran Bretagna Autosport, di Button e Priaulx, ha sconfitto l' America di Carl Edwards e Tanner Foust.
La semifinale più avvincente è stata tra la Scandinavia e la Gran Bretagna Autosport, dove l'8 volte campione della 24 ore di Le Mans, Tom Kristensen, si è imposto sul bicampione del Wtcc, Andy Priaulx, per soli 0.165 secondi. Prima di affrontarsi nella sfida decisiva, sia l'inglese sia il danese, hanno vinto agevolmente contro Ekström e Button.
Nella seconda semifinale la Germania batte la Gran Bretagna F1, con Schumacher che prevale nettamente su Coulthard, ma per rendere la sfida più interessante, si inventa un piccolo show: il tedesco si ferma all'ultima curva e lo aspetta per poi batterlo in volata; nella seconda prova, Vettel batte facilmente Jason Plato, assicurandosi il posto nella finale per il titolo contro la Scandinavia.
Nella sfida iniziale i due grandissimi campioni, Schumacher e Kristensen, mettono in scena un confronto combattuto, dove il tedesco riesce ad imporsi per soli 0.173s. Nella seconda prova, Ekström vince contro Vettel, nonostante l'errore dello svedese in partenza, infatti, appena dopo lo start il 2 volte campione del Dtm centra in pieno le barriere di protezione, ma ciò non gli impedisce di dominare la gara contro il giovane tedesco.
La sfida decisiva tra Ekström e Schumacher è un dominio del 7 volte campione di F1, lo svedese commette troppi errori, ne ha commessi tanti in tutta la coppa delle Nazioni, e per il secondo anno consecutivo la coppia tedesca, Schumacher e Vettel, si conferma campione della Race of the Nation.
Vincenzo Carlesimo