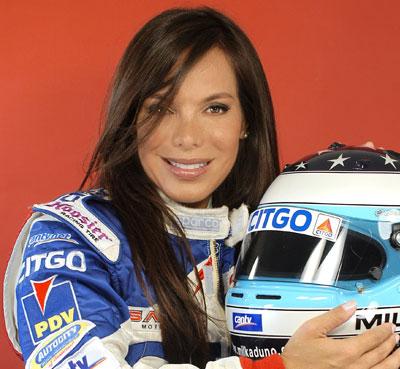 Milka Duno ritorna a calcare le scene della Indycar Series. Dopo i tentativi, andati quasi a buon fine con il team Newman-Haas tra Gennaio, Febbraio e Marzo (ha debuttato con una livrea personale nei tests privati di Sebring ed ha partecipato a quelli collettivi di Homestead), la venezuelano torna alla casa madre, la Dreyer&Reinbold, scuderia per la quale ha corso anche la scorsa stagione. Debutterà a partire dal prossimo appuntamento in Kansas con la vettura n°23 guidata nelle due precedenti gare da Darren Manning.
Sarà sponsorizzata dalla CITGO, PDVSA e Cantv. Da sottilineare il fatto che il secondo marchio, sponsor primario della HVM di Viso, è un sub-prodotto del primo.
"Siamo contenti di riaccogliere Milka con noi" – fa sapere Dennis Reinbold – "Lo scorso anno la collaborazione è stata fruttifera e vogliamo continuare a fare del nostro meglio, procedere per quella strada che momentaneamente non è stata più percorsa".
Dietro le dichiarazioni di Reinbold c'è però una soddisfazione ben celata di riavere con sè un supporto economico adeguato a garantire la pretesa di schierare più vetture in pista.
Milka sarà al via di ben nove gare delle restanti quindici in programma: Kansas, Indy 500, Texas, Kentucky, Mid Ohio, Watkins Glen, Sonoma, Chicago and Homestead Miami. L'onore di correre a Milwaukee, Richmond, Iowa, Toronto, and Edmonton toccherà invece a Darren Manning.
Si prospetta, come annunciato mesi fa, un possibile ritono di Roger Yasukawa in occasione del penultimo appuntamento a Motegi.
MN