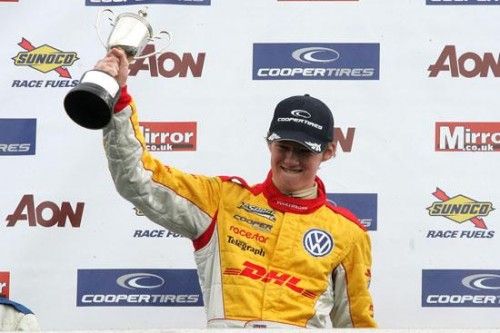 Il rookie Wayne Boyd, campione di F.Ford inglese, vince la sua prima gara in F3 sul circuito di Donington e mostra a tutti di che pasta è fatto. Un talento cristallino e sangue freddo che gli hanno permesso di arrivare in testa ad una gara quanto mai convulsa e difficile e siglare la doppietta grazie all'ottima prestazione del compagno di squadra, l'altro giovane talento Adriano Buzaid.
Se il tempo ha deciso di graziare i piloti nella prima gara, gara due parte invece asciutta (con tutti i piloti in pista con le slick fin dalla partenza) ma ben presto la pioggia si fa vedere all'orizzonte e impone il suo marchio. Entra la safety car e le condizioni si fanno difficili con la pioggia battente.
Il diciottenne che viene dall'Ulster inizia sotto la pioggia la sua trionfale risalita. Dopo un iniziale nono posto con tanto di escursione sull'erba alla partenza, Boyd è decimo e, appena ae gomme vanno in temperatura, inizia anche la rimonta.
Nelle prime battute, con pista asciutta, leader della gara è Ricciardo, davanti a Buzaid e Van Der Zande, seguiti da Grubmuller, ma i colpi di scena sono in agguato. Il pilota australiano ha la peggio quando resta invischiato nella lotta fra Buzaid e Van der Zande, perdendo diverse posizioni.
Boyd, nel frattempo, con pista bagnata e sotto la pioggia, sembra avere trovato la migliore forma. Da decimo a sesto, il pilota TSport supera anche Ricciardo, Chilton e Huertas mentre al quindicesimo giro sono Grubmuller e Buzaid le vittime dell'implacabile Boyd, autore di due mirabili sorpassi, il primo alla Redgate, il secondo alla Coppins. Ora nel mirino c'è solo Van Der Zande, penalizzato con un drive trough per aver innescato l'incidente con Ricciardo; Boyd si mette in scia e compie il sorpasso decisivo di nuovo alla Redgate.
Boyd sigla così l'1-2 con Buzaid, prima doppietta per Tsport e prima vittoria per il rookie ulsteriano. Completa il podio Grubmuller, seguito da Huertas autore di una rocciosa prestazione sotto la pioggia.
Il pilota austriaco guadagna altri punti preziosi per la lotta al titolo e si avvicina pericolosamente a Ricciardo.
Così all'arrivo
1  INT  Wayne Boyd/GBR, T-Sport Dallara-Volkswagen, 30m 13.649s / 93.24mph
2  INT  Adriano Buzaid/BRA, T-Sport Dallara-Volkswagen, +6.082s
3  INT  Walter Grubmüller/AUT, Hitech Dallara-Mercedes, +7.362s
4  INT  Carlos Huertas/COL, RR Dallara-Mercedes, +8.308s
5  INT  Daniel Ricciardo/AUS, Carlin Dallara-Volkswagen, +10.452s
6  INT  Henry Arundel/GBR, Carlin Dallara-Volkswagen, +11.994s
7  INT  Max Chilton/GBR, Carlin Dallara-Volkswagen, +13.462s
8  INT  Jay Bridger/GBR, Litespeed Mygale-Mugen Honda, +14.168s
9  INT  Daisuke Nakajima/JPN, RR Dallara-Mercedes, +15.305s
10  INT  Riki Christodoulou/GBR, Fortec Dallara-Mercedes, +16.503s
11  INT  Hywel Lloyd/GBR, CF Racing Dallara-Mugen Honda, +24.226s
12  NAT  Daniel McKenzie/GBR, Fortec Dallara-Mugen Honda, +30.017s
13  INT  Renger van der Zande/NED, Hitech Dallara-Mercedes, +32.936s
14  NAT  Gabriel Dias/BRA, T-Sport Dallara-Mugen Honda, +45.035s
Ritirati
NAT  Victor Correa/BRA, Litespeed-Mugen Honda, 19 laps
INT  Dominic Storey/NZL, RR Dallara-Mercedes, 15 laps
NAT  Max Snegirev/RUS, West-Tec Dallara-Mugen Honda, 13 laps
INT  Philip Major/CDN, Carlin Dallara-Volkswagen, 3 laps
INT  Victor Garcia/ESP, Fortec Dallara-Mercedes, 2 laps
Giro veloce
INT Ricciardo 1m 04.596s / 109.08mph
NAT Dias 1m 06.577s / 105.83mph
, dry laps, pursued by Buzaid and the Hitech cars of Renger van der Zande and Walter Grubmuller. But at the completion of a two-lap safety car period, caused by the need to rescue a stranded car from the track, Ricciardo was hijacked by van der Zande and Buzaid through McLeans corner, and the Australian spun back to seventh, just ahead of Boyd, who had recovered well from a grassy moment on the opening lap and who was revelling in the increasingly damp conditions.
E.M.
Championship leader Daniel Ricciardo led the way from the pole in the early, dry laps, pursued by Buzaid and the Hitech cars of Renger van der Zande and Walter