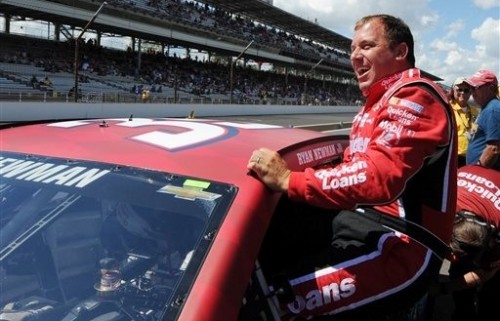 A cura di Fabio Valente –
Al termine di un turno di qualifiche completamente dominato dalla vettura numero #48 del pluricampione Jimmie Johnson è Ryan Newman, secondo pilota del team Stewart Haas Racing a festeggiare la pole position per la Brickyard 400, gara in programma nella giornata di Domenica 29 Luglio sull'ovale dell'Indiana. Sceso in pista tra i primi, Jimmie Johnson ha mantenuto la testa della classifica provvisoria fino a prima della partenza dell'ultimo atleta in programma: "The last to qualify, the first to start", l'ultimo a scendere per qualificarsi, il primo a partire. Ecco la descrizione di quanto avvenuto, con l'esperto pilota, nativo proprio di Indianapolis, capace di strappare la pole position al 5 volte campione NASCAR Sprint Cup Series.
Per Ryan Newman la possibilità di partire domani dalla prima fila, con accanto proprio Jimmie Johnson, è maturata grazie ad un giro concluso in 47.992 secondi a 187.531 miglia orarie di media. Per il pilota della vettura numero #39 si tratta della cinquantesima pole position di una oramai trentennale carriera: Ryan partirà con alle sue spalle nell'ordine Jimmie Johnson, Carl Edwards, Denny Hamlin, Tony Stewart, Kurt Busch, Kasey Kahne, JP Montoya, Jeff Gordon e Marc Ambrose a completare la top ten. La gara prenderà il via domenica poco dopo le 19 ora italiana.
ORDINE DI PARTENZA
| | | | | | | | |
| --- | --- | --- | --- | --- | --- | --- | --- |
| 1 | Ryan Newman | 39 | Chevrolet | Quicken Loans / The Smurfs | 187.531 | 47.992 | Leader |
| 2 | Jimmie Johnson | 48 | Chevrolet | Lowe's / Kobalt Tools | 187.438 | 48.016 | -0.024 |
| 3 | Carl Edwards | 99 | Ford | Fastenal | 187.157 | 48.088 | -0.096 |
| 4 | Denny Hamlin | 11 | Toyota | FedEx Express | 187.122 | 48.097 | -0.105 |
| 5 | Tony Stewart | 14 | Chevrolet | Mobil 1 / Bass Pro Shops | 186.827 | 48.173 | -0.181 |
| 6 | Kurt Busch | 78 | Chevrolet | Furniture Row-Beautyrest | 186.722 | 48.200 | -0.208 |
| 7 | Kasey Kahne | 5 | Chevrolet | Great Clips | 186.633 | 48.223 | -0.231 |
| 8 | Juan Pablo Montoya | 42 | Chevrolet | Target | 186.536 | 48.248 | -0.256 |
| 9 | Jeff Gordon | 24 | Chevrolet | Pepsi MAX | 186.474 | 48.264 | -0.272 |
| 10 | Marcos Ambrose | 9 | Ford | DeWalt | 186.281 | 48.314 | -0.322 |
| 11 | Joey Logano | 22 | Ford | Shell-Pennzoil | 185.954 | 48.399 | -0.407 |
| 12 | Brad Keselowski | 2 | Ford | Miller Lite | 185.920 | 48.408 | -0.416 |
| 13 | Matt Kenseth | 20 | Toyota | Dollar General | 185.789 | 48.442 | -0.450 |
| 14 | AJ Allmendinger | 51 | Chevrolet | Phoenix Construction Services Inc. | 185.655 | 48.477 | -0.485 |
| 15 | Dale Earnhardt Jr | 88 | Chevrolet | National Guard | 185.621 | 48.486 | -0.494 |
| 16 | Jeff Burton | 31 | Chevrolet | Caterpillar | 185.448 | 48.531 | -0.539 |
| 17 | Clint Bowyer | 15 | Toyota | RK Motors Charlotte | 185.437 | 48.534 | -0.542 |
| 18 | Jamie McMurray | 1 | Chevrolet | CESSNA | 185.181 | 48.601 | -0.609 |
| 19 | Kyle Busch | 18 | Toyota | M&M's Red-White-Blue M-Prove America | 185.101 | 48.622 | -0.630 |
| 20 | Austin Dillon | 33 | Chevrolet | Mycogen Seeds | 184.961 | 48.659 | -0.667 |
| 21 | Aric Almirola | 43 | Ford | Eckrich | 184.794 | 48.703 | -0.711 |
| 22 | Travis Kvapil | 93 | Toyota | Burger King / Dr. Pepper | 184.676 | 48.734 | -0.742 |
| 23 | Paul Menard | 27 | Chevrolet | Menards / Duracell | 184.646 | 48.742 | -0.750 |
| 24 | Kevin Harvick | 29 | Chevrolet | Jimmy John's | 184.593 | 48.756 | -0.764 |
| 25 | Ricky Stenhouse Jr | 17 | Ford | Ford EcoBoost | 184.536 | 48.771 | -0.779 |
| 26 | Mark Martin | 55 | Toyota | Aaron's Dream Machine | 184.305 | 48.832 | -0.840 |
| 27 | Greg Biffle | 16 | Ford | 3M Safety | 184.045 | 48.901 | -0.909 |
| 28 | Trevor Bayne | 21 | Ford | Motorcraft / Quick Lane Tire & Auto Center | 183.906 | 48.938 | -0.946 |
| 29 | Landon Cassill | 40 | Toyota | LittleJoe'sAuto.com | 183.816 | 48.962 | -0.970 |
| 30 | Casey Mears | 13 | Ford | GEICO | 183.752 | 48.979 | -0.987 |
| 31 | David Reutimann | 83 | Toyota | Burger King / Dr. Pepper | 183.329 | 49.092 | -1.100 |
| 32 | Josh Wise | 35 | Ford | MDS Transport | 183.046 | 49.168 | -1.176 |
| 33 | Danica Patrick | 10 | Chevrolet | GoDaddy.com | 182.938 | 49.197 | -1.205 |
| 34 | Bobby Labonte | 47 | Toyota | Scott Products | 182.826 | 49.227 | -1.235 |
| 35 | Michael McDowell | 98 | Ford | K-Love/Curb Records | 182.819 | 49.229 | -1.237 |
| 36 | David Ragan | 34 | Ford | CSX – Play It Safe | 182.448 | 49.329 | -1.337 |
| 37 | David Stremme | 30 | Toyota | Swan Energy | 181.675 | 49.539 | -1.547 |
| 38 | Martin Truex Jr | 56 | Toyota | NAPA Auto Parts | 181.536 | 49.577 | -1.585 |
| 39 | J.J. Yeley | 36 | Chevrolet | TBA | 181.240 | 49.658 | -1.666 |
| 40 | Joe Nemechek | 87 | Toyota | TBA | 180.825 | 49.772 | -1.780 |
| 41 | Dave Blaney | 7 | Chevrolet | TBA | 179.878 | 50.034 | -2.042 |
| 42 | David Gilliland | 38 | Ford | Long John Silver's | 179.548 | 50.126 | -2.134 |
| 43 | Timmy Hill | 32 | Ford | OXY Water | 178.770 | 50.344 | -2.352 |