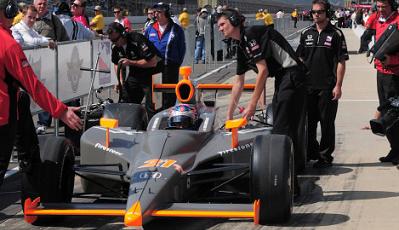 Il Bump Day chiude come da programma e da tradizione le due settimane di prove e qualifiche all'Indianapolis Motor Speedway. Le migliori condizioni atmosferiche hanno permesso ai piloti di ottenere delle velocità migliori rispetto ad ieri, e molti piloti hanno così deciso di eliminare i propri tentativi del giorno precedente, per effettuarne dei nuovi e mettersi in griglia in modo più sicuro. Alla fine, dei piloti esclusi ieri, uno è riuscito a qualificarsi oggi: il brasiliano Bruno Junqueira è riuscito, nonostante fosse all'esordio quest'anno, a ottenere una media buona per entrare tra i 33, 355,774 kmh. Il pilota più veloce è stato invece Tomas Scheckter, che partirà ventiseiesimo, alla media di 356,387 kmh.
Come sempre, gli ultimi minuti del Bump Day sono stati drammatici. John Andretti per due volte era sceso in pista e aveva ottenuto delle velocità non abbastanza buone per entrare tra i 33. Al terzo e ultimo tentativo, il nipote di Mario riesce finalmente a trovare il bandolo della matassa ed a qualificarsi, in trentesima posizione. A quel punto, entrando in griglia, Andretti eliminava addirittura Ryan Hunter-Reay, per tutto il mese in difficoltà con le prestazioni e ritrovatosi addirittura "on the bubble". A due minuti dalla fine Hunter-Reay entra in pista per i fatidici 4 giri, mentre Alex Tagliani è "on the bubble" ma non avrà il tempo di replicare. Così Hunter-Reay ha tutto nelle sue mani, la lotta è sul filo dei centesimi, ed alla fine il pilota americano del Vision Racing riesce a qualificarsi per appena 0.070 kmh. Il tradizionale colpo di pistola delle sei del pomeriggio cala invece il sipario sulle speranze di qualifica di Tagliani (che era ventiseiesimo ad inizio giornata, una posizione che si poteva ritenere abbastanza tranquilla), in un certo senso beffato anche dall'accordo in extremis tra il suo team e Junqueira.
Gli altri due esclusi sono Buddy Lazier (vincitore nel 1996) e il rookie Stanton Barrett. Entrambi nel finale hanno cercato l'assalto alla qualificazione, ma entrambi hanno rinunciato dopo appena un giro quando hanno visto che la loro velocità era un paio di kmh troppo bassa e quindi chiaramente non all'altezza di entrare in griglia. Ce l'hanno fatta invece altri due piloti a rischio: Milka Duno è stata tra i primi a scendere in pista, ottenendo subito una buona velocità che le ha garantito la qualifica, così come il francese Nelson Philippe, che sarà al via della sua prima Indy 500 in carriera, potendo continuare così a portare avanti il suo progetto "verde".
Adesso inizia la settimana di avvicinamento alla 93a Indianapolis 500. Mercoledì il Community Day, giovedì le prove della Indy Lights, venerdì il Carb Day, sabato la parata nel downtown della città, e infine domenica i 200 giri della più grande corsa del mondo.
Griglia di partenza della 93a edizione della 500 Miglia di Indianapolis:
Pos  Driver             Team                     Speed
 1.  Helio Castroneves  Penske                   224.864mph
 2.  Ryan Briscoe       Penske                   224.083mph
 3.  Dario Franchitti   Ganassi                  224.010mph
 4.  Graham Rahal       Newman/Haas/Lanigan      223.954mph
 5.  Scott Dixon        Ganassi                  223.867mph
 6.  Tony Kanaan        Andretti Green           223.612mph
 7.  Mario Moraes       KV                       223.331mph
 8.  Marco Andretti     Andretti Green           223.114mph
 9.  Will Power         Penske                   223.028mph
10.  Danica Patrick     Andretti Green           222.882mph
11.  Alex Lloyd         Schmidt/Ganassi          222.622mph
12.  Raphael Matos      Luczo Dragon             223.429mph
13.  Paul Tracy         KV                       223.111mph
14.  Vitor Meira        Foyt                     223.054mph
15.  Justin Wilson      Coyne                    222.903mph
16.  Hideki Mutoh       Andretti Green           222.805mph
17.  Ed Carpenter       Vision                   222.780mph
18.  Dan Wheldon        Panther                  222.777mph
19.  AJ Foyt IV         Foyt                     222.586mph
20.  Scott Sharp        Panther                  222.162mph
21.  Sarah Fisher       Fisher                   222.082mph
22.  Davey Hamilton     Dreyer & Reinbold        221.956mph
23.  Robert Doornbos    Newman/Haas/Lanigan      221.692mph
24.  Townsend Bell      KV                       221.195mph
25.  Oriol Servia       Rahal Letterman          220.984mph
26.  Tomas Scheckter    Coyne                    221.496mph
27.  Mike Conway        Dreyer & Reinbold        221.417mph
28.  John Andretti      Dreyer & Reinbold/Petty  221.316mph
29.  EJ Viso            HVM                      221.164mph
30.  Bruno Junqueira    Conquest                 221.115mph
31.  Milka Duno         Dreyer & Reinbold        221.106mph
32.  Nelson Philippe    HVM                      220.754mph
33.  Ryan Hunter-Reay   Vision                   220.597mph