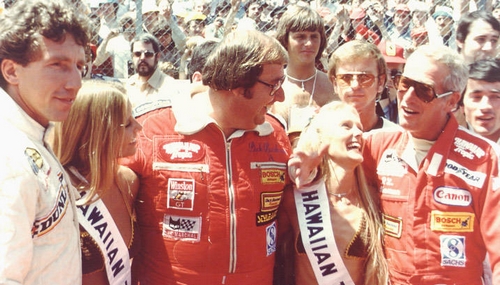 Nella giornata del 27 Settembre 2008 è  venuto a mancare il celeberrimo attore statunitense di origini magiare  Paul Leonard Newman, famoso anche per l'imponente sforzo profuso in campo motoristico. Paul ha combattutto una dura battaglia contro il cancro ai polmoni diagnosticatogli dallo Sloan-Kettering Cancer Center di New York nel Luglio scorso. L'attore e co-proprietario di uno dei teams storici del motorsport statunitense e mondiale, la Newman-Haas-Laningan, aveva recitato per l'ultima volta  nel 2002  con un cameo nella pellicola "Era mio padre" assieme a Tom Hanks. Nel 2007 aveva dato l'addio alle scene durante una intervista all'emittente ABC. Il suo primo film è datato 1954, "Il calice d'argento" ma la sua interpretazione non ricevette critiche positive. Portò alla ribalta cinematografica anche il personaggio di Rocky Graziano, pugile italo-americano degli anni quaranta realemente esistito, specialista del knock-out con il film del 1956 "Lassù qualcuno mi ama". Sylvester Stallone prenderà spunto dall'interpretazione di Paul Newman per la saga di Rocky Balboa. Negli anni Sessanta Paul Newman fu protagonista incontrastato dei più grandi capolavori di Hollywood tra cui ci piace citare anche "Indianapolis sfida infernale" del 1969. La sua florida carriera hollywoodiana gli ha fatto guadagnare la fama di "leggenda del cinema". Per quanto riguarda la sua passione motoristica non possiamo non ricordarci della partecipazione alla 24 H di Le Mans nel 1979 con una Porsche 959 guidata assieme a Rolf Stommelen. Giunsero secondi in gara. Nel 1995 addirittura arrivò una vittoria nello storico circuito di Le Sarthe nella classe GT1,e Paul risultò essere  il più anziano vincitore di sempre. La sua creatura più importante in campo motoristico rimane comunque, nonostante questi eccezionali successi che non vanno assolutamente tralasciati nel delineare il personaggio tout-court, la creazione del team "Newman Racing". Avvenne nel 1978 per il campionato Can-Am e la schiera di piloti era nientemeno che composta dallo svedese-finnico Keke Rosberg futuro campione mondiale in F1, e dalla leggenda USAC Al Unser senior.  Nel 1983, congiunse le forze con il suo rivale più acerrimo (dal punto di vista professionale) Carl Haas dando vita alla scuderia che ha partecipato per quasi tutto il corso della sua storia al campionato Cart/CCWS e che ora è emigrato in Indycar. Per il campionato Atlantic, Newman è stato co-proprietario della "Newman-Wachs Racing" che ha ispirato la pellicola-documentario "Super Speedway". Per Newman hanno corso campioni  plurititolati come Mario Andretti, Michael Andretti, Nigel Mansell, Paul Tracy, Cristiano Da Matta, Sebastien Bourdais, per un totale di centocinque vittorie e ben otto titoli piloti. Nel 2008 nell'anno della transizione sono arrivate ben due vittorie con i portabandiera Justin Wilson (Detroit Belle Isle) e Graham Rahal (St Petersburg). Fu uno dei promotori della riunificazione fra IRL e Cart/CCWS già dai primi anni del decennio, e quando Penske, Ganassi e Team Green decisero di emigrare nel campionato di Tony George, rimase assieme a Forsythe l'ultimo grande team a continuare la battaglia per la vita della terza corona motoristica a ruote scoperte. Inutile dire che la reunion del Febbraio scorso è stata salutata da Paul stesso come una liberazione. Ha continuato la sua carriera agonistica in prima persona nonostante avesse superato la soglia di ottanta anni d'età, partecipando regolarmente alle ultime edizione della 24H di Daytona, vincendo anche nel 2003 la "SCCA GT Series".
Questo l'annuncio ufficiale stamani dato dalla fondazione di beneficenza che portava il suo nome, la Newman's Own Foundation.
"Paul Newman's craft was acting. His passion was racing. His love was his family and friends. And his heart and soul were dedicated to helping make the world a better place for all. Paul had an abiding belief in the role that luck plays in one's life, and its randomness. He was quick to acknowledge the good fortune he had in his own life, beginning with being born in America, and was acutely aware of how unlucky so many others were. True to his character, he quietly devoted himself to helping offset this imbalance. An exceptional example is the legacy of Newman's Own. What started as something of a joke in the basement of his home, turned into a highly-respected, multi-million dollar a year food company. And true to form, he shared this good fortune by donating all the profits and royalties he earned to thousands of charities around the world, a total which now exceeds $250 million. While his philanthropic interests and donations were wide-ranging, he was especially committed to the thousands of children with life-threatening conditions served by the Hole in the Wall Camps, which he helped start over 20 years ago. He saw the Camps as places where kids could escape the fear, pain and isolation of their conditions, kick back, and raise a little hell. Today, there are 11 Camps around the world, with additional programs in Africa and Vietnam. Through the Camps, well over 135,000 children have had the chance to experience what childhood was meant to be.
"We will miss our friend Paul Newman, but are lucky ourselves to have known such a remarkable person."
"Il nostro amico Paul ci mancherà tanto, ma ci riteniamo fortunati di aver potuto fare la conoscenza di una personalità cosi' eccelsa", parole che anche noi non possiamo non sottoscrivere.
Addio Paul.
MN