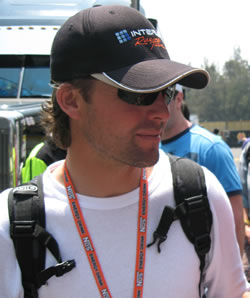 Il campionato Indycar offre una novità ulteriore per la stagione 2009: a partire dal prossimo anno farà ritorno a tempo pieno il team "Beck Motorsports" con un organico del tutto rinnovato e non solo, visto che anche la nomenclatura  ha subito un cambio , "3G" appunto. Il pilota sarà Stanton Barrett, di professione stuntman per pellicole cinematografiche ed anche pilota professionista nella categoria Nascar Nationwide. Il pilota trentaseienne, di origini californiane, ha incominciato a correre nella categoria regina delle ruotecoperte d'oltreoceano nel 1992 nella Busch Series a soli diciannove anni d'età. Per molti anni ha corso con un proprio team privato con miglior risultato un quinto  posto nell'appuntamento primaverile ad Atlanta nel 1996. Nel 1999 sostituisce per quindici gara Kerry Earnhart nel team di Darwin Oordt per poi avvicendarsi a sua volta con Butch Miller e  correre le ultime gare con un team diverso. Nel 1999 fa il suo debutto nella Winston Cup, categoria in cui corse a lungo il padre. Avviene nella 400 miglia di Las Vegas e conclude trentesimo su quaratantadue partecipanti in gara. I successivi tentativi di qualificarsi ad altre gare falliscono quasi tutti eccetto in alcune sporadiche occasioni. Nei primi anni del duemila è un girovagare di teams con uno scarso numero di partecipazioni in gara. Il suo bottino rimarrà completamente vuoto per quel che concerne gare vinte, poles e top tens. Nel 2005 fa un ritorno alla Busch Series e da allora fino ad oggi soltanto due poles e qualche piazzamento nella Top Ten. Un totale di ventidue gare Sprint Cup in sedici anni e centosessantanove nella Natiowide Series.
La sua carriera cinematografica sembra essere più florida con partecipazioni alle pellicole:  "SpiderMan" ed i successivi sequels, "Jurassick Park 2″ e Jurassick Park 3", il primo "Batman" di Tim Burton, " The Dukes Of Hazzard", "Fastlane", "Mr and Mrs Smith" per citarne alcuni.
" E' sempre difficile riuscire a correre con un team privato, perchè devi essere un bravo team manager ed all'occorrenza un buon pilota. Ci sono centinaia di piloti qi e non tante opportunità per emergere, e mi sento realizzato perchè ora ho questa opportunità davanti guadagnata con sudore e tanto lavoro. E' una lotta continua"- le parole di Barrett.
Sicuramente un outsider del prossimo campionato: saprà fare bene in mezzo a tanta concorrenza quale la Indycar si appresta ad avere con altri valori aggiunti come Franchitti ?
Per Beck invece un programma a tempo pieno dopo le due apparizioni quest'anno a Motegi ed Indianapolis (Roger Yasukawa non riusci' a qualificarsi nel bump day)
MN